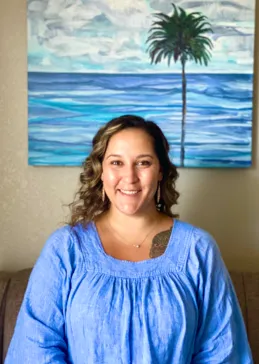 Patricia is a Licensed Clinical Social Worker and Certified Clinical Trauma Professional who has worked in the field of social work for eight years and is dedicated to helping those struggling with depression, anxiety, and trauma. She received her Undergraduate Degree in Sociology from San Diego State University and her Master's Degree in Social Work from the University of Hawaii at Manoa. While in Hawaii, she was exposed to a different clinical scope that included a focus on cultural sensitivity, holistic healing, collective culture, and working with refugee populations. Most recently, she has been working in an acute care setting with adults that require inpatient hospitalizations and adolescents needing intensive outpatient programming.
Patricia has a special interest in working with adolescents (12-17 years old) and the TAY (Transitional Aged Youth; 18-26 years old) population. Due to her years in working with Child Protective Services, she understand the unique issues associated with youth transitioning out of the home, emancipation, adoption, and the transition into adulthood. Patricia has seen the barriers to treatment these individuals encounter and wants to provide assistance in navigating these barriers during a pivotal transition in life. She also has experience working with individuals in the LGBTQ+ community and is able to provide a nurturing environment that allows individuals to safely explore, question, and express themselves in order to be the most authentic version of themselves.
Areas of treatment include, but is not limited to, depression and other mood disorders, generalized anxiety, social anxiety, trauma, grief and bereavement, problems in adjustment, and difficulties with life transitions due to changes in health, career, or relationship status. Some modalities Patricia enjoys pulling from are CBT (Cognitive Behavioral Therapy), ACT (Acceptance and Commitment Therapy) Strengths Based/Client Centered, and Solution Focused. She has exposure to interventions such as EMDR and Somatic Experiences, as well as, CBT and Culturally Sensitive Interventions.